The spiritual or natural essence of a place reflects the vitality of the land that arises from the changing seasons. Before long, this essence comes to include the history and culture created there as well.
Eastern Japan - a land of scenic natural beauty that is home Tokyo and numerous other metropolises.
The history of Metropolitan Hotel has unfolded alongside that of this vibrant region.
The energetic air of the city, the longstanding cultural traditions and the unforgettable exquisitely-crafted dishes all serve to enchant our guests.
By delivering the blessings and richness of each region and community, Hotel Metropolitan aims to deliver an extravagant experience unlike any other.
Set in a refined atmosphere of aesthetic beauty, we welcome our guests with the warmest and most heartfelt hospitality.
Enjoy a relaxing and comfortable stay immersed in an space of tranquility and brilliance.
Crossing comfort and vibrancy.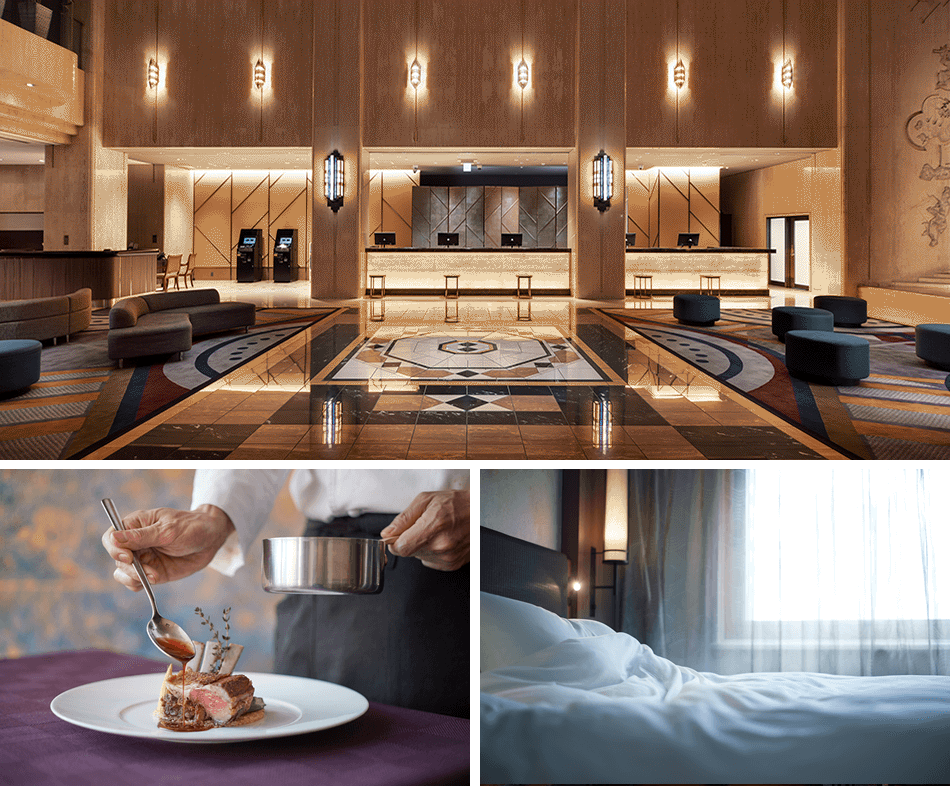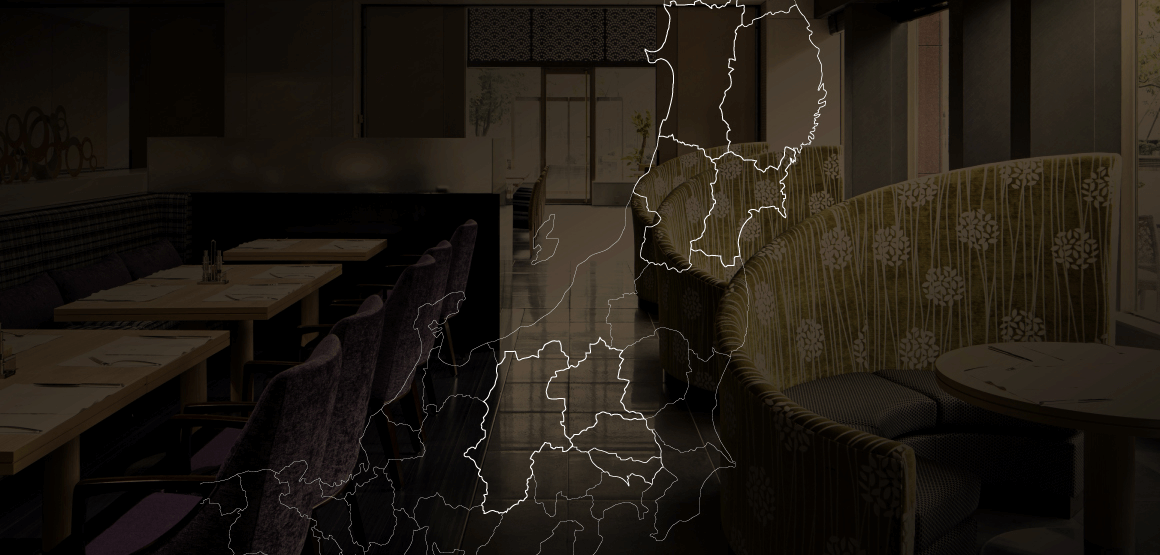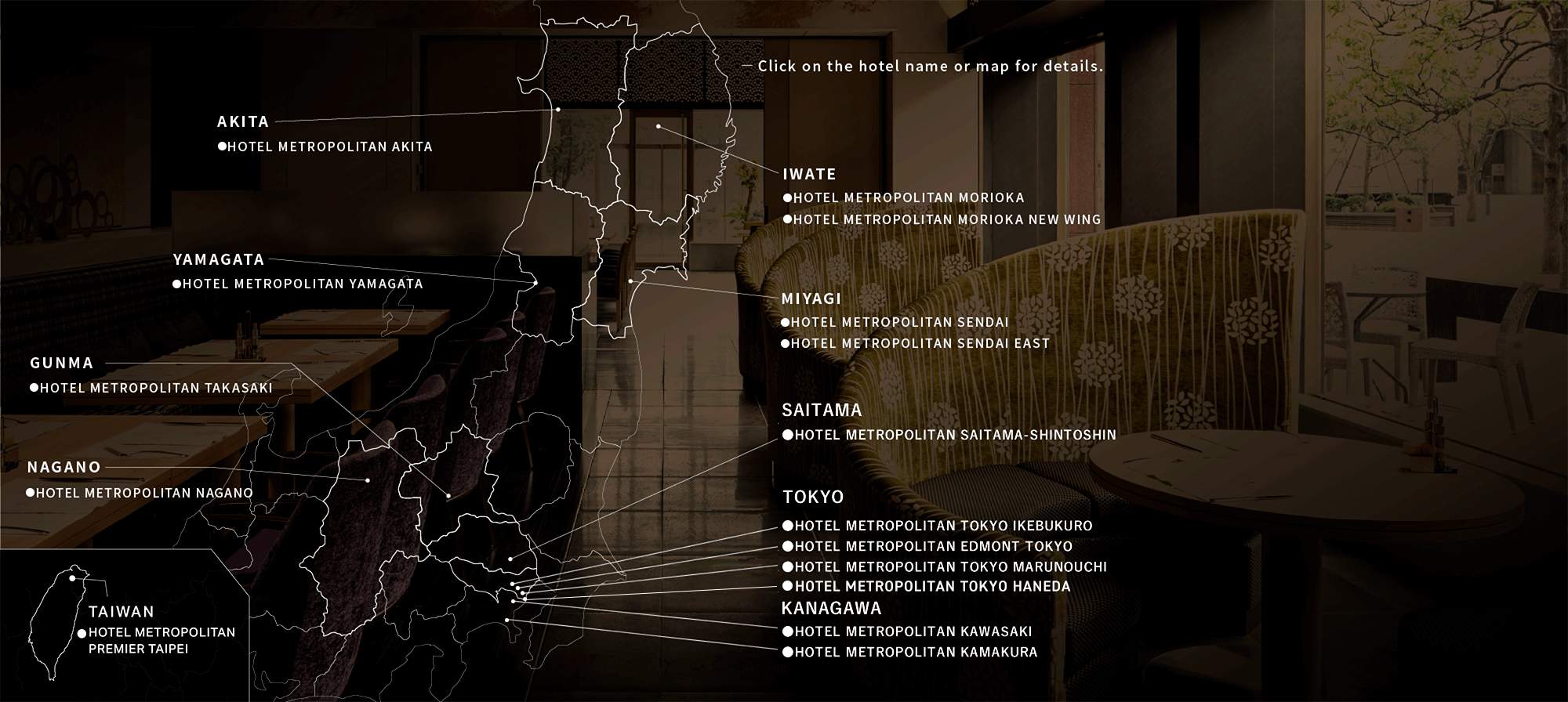 AREA 01

Tokyo, Ikebukuro

HOTEL METROPOLITAN TOKYO IKEBUKURO

〒171-8505 
1-6-1 Nishi-Ikebukuro, Toshima-ku, Tokyo , Japan
TEL +81-3-3980-1111 / FAX +81-3-3980-5600

Access Guide

■3-minute walk from the West exit of Ikebukuro station

AREA 01

TOKYO・IDABASHI

HOTEL METROPOLITAN EDMONT TOKYO

〒102-8130 
10-8, Iidabashi-3chome, Chiyoda-ku, Tokyo, Japan
TEL +81-3-3237-1111 / FAX +81-3-3234-4371

Access Guide

■A 5-minute walk from the East exit of JR Iidabashi station or the West exit of JR Suidobashi station
■A 2-minute walk from the A5 exit of Iidabashi station's Tokyo Metro Tozai line
■A 5-minute walk from the A2 exit of Iidabashi station's Tokyo Metro Yuraku line/ Namboku line, Toei Oedo line

AREA 01

Tokyo, Marunouchi

HOTEL METROPOLITAN TOKYO MARUNOUCHI

〒100-0005 
1-7-12, Marunouchi, Chiyoda-ku, Tokyo, Japan
TEL +81-3-3211-2233 / FAX +81-3-3211-2244

Access Guide

■Directly connected to the Marunouchi South exit of JR Tokyo station

AREA 01

Kanagawa, Kawasaki

HOTEL METROPOLITAN KAWASAKI

〒212-0014 
1-5 Omiyacho, Saiwai-ku, Kawasaki-shi, Kanagawa, Japan
TEL +81 44-533-2121 / FAX

Access Guide

■2-minute walk from the West exit of JR Kawasaki Station

AREA 01

Kanagawa, Kamakura

HOTEL METROPOLITAN KAMAKURA

〒248-0006 
1-8-1 Komachi, Kamakura-shi, Kanagawa, Japan
TEL +81 467-60-1250 / FAX

Access Guide

■2-minutes walk from the East exit of JR Kamakura Station

AREA 01

Saitama, Saitama City

HOTEL METROPOLITAN SAITAMA-SHINTOSHIN

〒330-0081 
JR Saitamashintoshin Building 5~10F, 11-1 Shintoshin, Chuo-ku, Saitama-shi, Saitama Japan
TEL +81-48-851-1111 / FAX +81-48-851-1120

Access Guide

■1-minute walk from Saitama-Shintoshin station

AREA 02

Gunma, Takasaki

HOTEL METROPOLITAN TAKASAKI

〒370-0849 
222 Yashima-cho, Takasaki city, Gunma, Japan
TEL +81-27-325-3311 / FAX +81-27-325-4409

Access Guide

■3-minute walk from the central gate of JR Takasaki station

AREA 02

Nagano, Nagano City

HOTEL METROPOLITAN NAGANO

〒380-0824 
1346 Minamiishi Dou-cho, Nagano, Japan
TEL +81-26-291-7000 / FAX +81-26-291-7007

Access Guide

■Directly connected to the JR Nagano station building

AREA 03

Miyagi, Sendai

HOTEL METROPOLITAN SENDAI

〒980-8477 
1-1-1 Aoba-ku Chuo Sendai, Miyagi, Japan
TEL +81-22-268-2525 / FAX +81-22-268-2521

Access Guide

■1-minute walk from the West exit of JR Sendai station
■1-minute walk from the Metro Sendai station

AREA 03

Miyagi, Sendai

HOTEL METROPOLITAN SENDAI EAST

〒980-8477 
1-1-1 Aoba-ku Chuo Sendai, Miyagi, Japan
TEL +81-22-268-2525 / FAX +81-22-268-2521

Access Guide

■Directly connected to the JR Sendai station

AREA 03

Yamagata, Yamagata City

HOTEL METROPOLITAN YAMAGATA

〒990-0039 
1-1-1 Kasumi-cho, Yamagata, Japan
TEL +81-23-628-1111 / FAX +81-23-628-1166

Access Guide

■Directly connected to the JR Yamagata station

AREA 04

Iwate, Morioka

HOTEL METROPOLITAN MORIOKA

〒020-0034 
1-44 Morioka Ekimae-dori, Morioka city, Iwate, Japan
TEL +81-19-625-1211 / FAX +81-19-625-1210

Access Guide

■1-minute walk from the North exit of the JR Morioka station

AREA 04

Iwate, Morioka

HOTEL METROPOLITAN MORIOKA NEW WING

〒020-0033 
2-27 Morioka Ekimae Kitadori, Morioka city, Iwate, Japan
TEL +81-19-625-1211 / FAX +81-19-625-1210

Access Guide

■A 3-minute walk from the North exit of the JR Morioka station

AREA 04

Akita, Akita

HOTEL METROPOLITAN AKITA

〒010-8530 
7-2-1 Nakadori Akita city, Akita, Japan
TEL +81-18-831-2222 / FAX +81-18-831-2290

Access Guide

■A 1-minute walk from the West exit of the JR Akita station

AREA 05

Taiwan, Taipei

HOTEL METROPOLITAN PREMIER TAIPEI

〒104107 
No. 133, Sec.3, Nanjing E. Rd., Zhongshan Dist., Taipei City, 104107, Taiwan (R.O.C.)
TEL +886-2-7750-0900 / FAX

Access Guide

■1 minute walk from MRT Wenhu Line, Songshan-Xindian Line, "Nanjing Fuxing Station" Exit 2. (Close to MRT "Nanjing Fuxing Station" Exit 2)